September 6, 2008 by A.B. Lopez
Jennifer Lopez Elle Cover Photos October 2008 Issue – Here are Jennifer Lopez "Elle" October 2008 issue cover and pictures.Jennifer Lopez is photographed in the mag with some of her favorite designers .
Jennifer in working with Oscar de la Renta:
"We were in the hoody!" "All kinds of locals hanging around, eating out of paper bags, thinking, what's going on here? It was crazy."
On not being able to get pregnant right away:
"We knew nothing was wrong with either one of us—I had been checked, and he had kids already. I knew Something's not ready here, in my head or in my life, and when it is, I know it's going to happen."
Jenny went back on the block and laughed ,how fast she has forgotten where she came from?


Continue reading "Jennifer Lopez Elle Cover Photos October 2008 Issue"
August 30, 2008 by A.B. Lopez
Latinos Vote DNC Party Denver – Jessica Alba,Jennifer Lopez,and Rosario Dawson, were pictured at the Latinos Vote DNC Party, in Denver earlier this week.Rosario Dawson (who co-founded Voto Latino), Fat Joe, and Wilmer Valderrama,have all endorsed Barack Obama,unlike the other one named Papa,Grandpa something Yankee.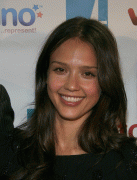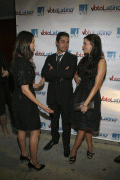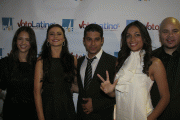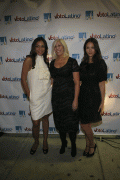 Continue reading "Latinos Vote DNC Party Denver"
August 22, 2008 by A.B. Lopez
Selena Gomez Interview-Selena Gomez is being considered the next Miley Cyrus.Gomez who got her first big break starring on Barney & Friends at the age of 7 is now one of the biggest Disney stars out there.On playing in Barney & Friends,she says:
"I was very shy when I was little." "I didn't know what 'camera right' was. I didn't know what blocking was. I learned everything from Barney." "[producers] felt like I was getting a little too old, so I got the boot."
On playing Alex on Disney Channel's hit Wizards of Waverly Place with costar with her BFF (and fellow Barney alum) Demi Lovato :
"I'm having a blast!" "I've been blessed with everything that I'm doing."
Her mother Mandy Teefey, who split from Gomez's dad, Ricardo, when was 5 added:
"There are a ton of yes-people in this town, so it is my place to say no and remind her she is not owed anything."
On dating:
"I have crushes and go on dates, but I don't need a boyfriend right now,"I wear a purity ring as "a promise to myself." "I've met the nicest people [in L.A.]," "but I'm a Texas girl at heart."
In her free time she spends her $150-250 weekly allowance at Aldo and Forever 21.
Stay away from Britney and Lohan and you will be just fine.


Continue reading "Selena Gomez Interview"
August 14, 2008 by A.B. Lopez
Manny Ramirez Haircut – Manny Ramirez haircut did not really happen.Manny Ramirez was asked by Dodgers' manager Joe Torre to cut his dreadlocks but he only cut few inches off.When asked about the cut Ramirez said:
"One inch, half-an-inch." "It's still long. If I come back next year, it will be shorter.""One of my friends recommended him,it took maybe five minutes, 10 minutes."
Torre said:
"He came in and showed me. As Billy Crystal said in 'Analyze That,' it's a process. He took a little bit off. It's within the rules of cleaning it up a little bit. Right now, it's around his shoulders. It's not covering his name up. We'll continue to monitor it."
Torre added:
"He haunts me with this." "He says every time he gets a hit, it's the hair. I say it's the ability. He knows as well as everybody else around here that his ability is special. He's a character."
It is just hair so leave the man alone.
August 13, 2008 by A.B. Lopez
ABC Maid In Manhattan TV Show-ABC has announced that Jennifer Lopez's 2002 movie "Maid In Manhattan" will become a television series.The film was about Maris Ventura, a single mother, portrayed by Jennifer, who works as a housekeeper in a posh Manhattan hotel, where she falls in love with a wealthy politician guest.But the show will will mainly focus on Maris' relationship with her co-workers.The producer of the upcoming series Chad Hodge told The Hollywood Reporter:
"The show is a different maid in a different Manhattan,"
"While the hotel's clientèles is an obvious part of this world, I'm more interested in the downstairs part of Upstairs, Downstairs."
Jennifer will executive produce the project.
Too bad Jennifer's assets will not be shown on camera.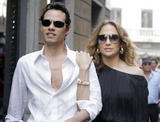 Continue reading "ABC Maid In Manhattan TV Show Jennifer Lopez Production"